In this article: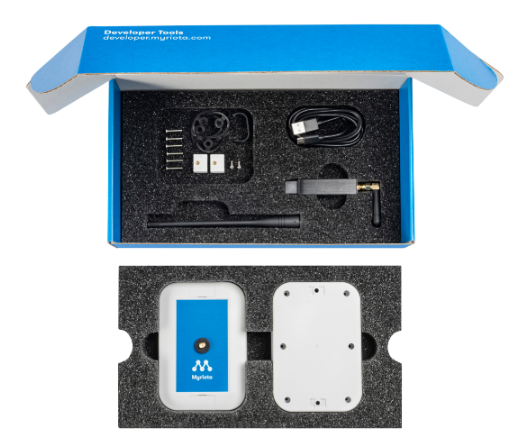 The Myriota Dev Kit gives you all the tools you need to add affordable, long battery life IoT connectivity to your product. This ready-made platform is powered by the Myriota Module; it gives you access to our direct-to-satellite technology in the fastest and most flexible way possible. Looking to purchase? Click here.
Item
Description
Dimensions
130mm W x 90mm L x 200mm H (height with antenna)
Enclosure
IP65, UV-resistant
Operating Temperature
-30°C to 70°C / -22°F to 158°F
RoHS Compliant
Yes
Power Supply

2x Lithium AA Batteries (3 - 3.6V)
Micro USB

Radio Frequency

DB1-2x Variant:
VHF TX 160.975 - 161.475
UHF RX 400.15 - 401

DB2-2x Variant:
UHF TX 399.9 - 400.05
UHF RX 400.15 - 401

Programming

Serial port via micro USB or SWD

On-board Myriota Module MCU




Low power 32-bit microcontroller, ARM Cortex-M4, 48MHz
256kB flash, 32kB RAM

Communications Interfaces

2× UART
1× Low Energy UART with wakeup capability
1× I²C Master Interface
1x SPI Master Interface
2x Pulse Counter
2x 12-bit ADC
1x SWD
4x GPIO (2x with wakeup capability)

Connectors
MMCX connector for external UHF antenna
2x17 pin male 100mil (2.54mm) pitch breakout header
Buttons

Reset
Wakeup

GNSS

SAM-M8Q-0-10 GNSS module with onboard antenna
GPS, Galileo and GLONASS
Acquisition Time 1s (hot start) or 30s (cold start)
Accuracy 2.5m CEP 50% (24 hours static, good sky view)
Sensitivity -164 dBm (tracking)

Temperature Sensor

-30°C to 70°C / -22°F to 158°F range
+/- 2°C / 35.6°F sensitivity

Programmable LED
Yes
Encryption
AES-CBC-256 using unique per-Module keys and full message encryption
Data Destination
Webhook or AWS Lambda
Satellite Simulator

USB dongle for lab testing of Myriota devices
Tuned to 434MHz (LPD band)
Short range (up to a few meters from device)
Check out our Prototyping with Myriota guide and the Dev Kit User Guide. The user guide contains step by step instructions and links to the information you will need to get started developing with the Myriota SDK, building an application and deploying your device. The Development Board Manual and Myriota Module Datasheet provide further technical specifications.
Looking to purchase a Myriota Dev Kit? Click here.