In this article:
The Myriota Network provides global coverage via our growing constellation of low-earth-orbit satellites.
In the commercially available markets listed below, Myriota has a license to operate at full commercial scale. In the early access markets listed, Myriota is actively working with regulators to provide commercial access and can offer small scale and proof of concept deployments.
Looking to deploy in an Early Access Market or a market not shown below? Contact us to discuss your requirements.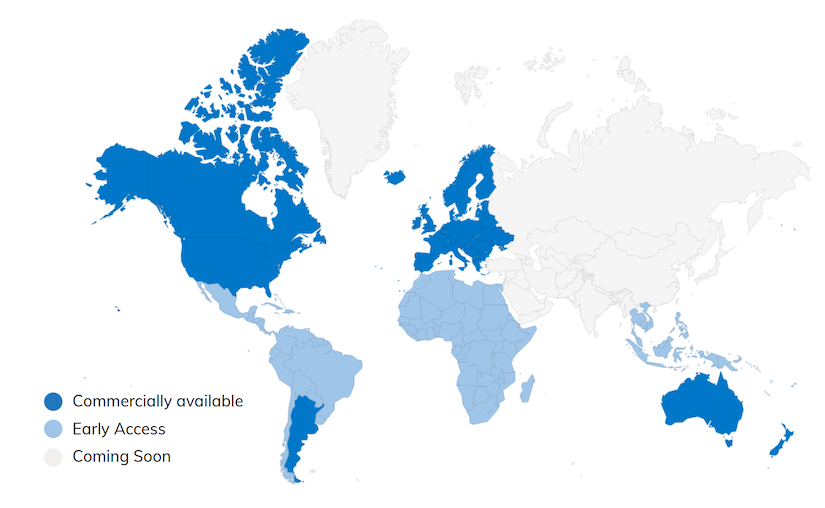 North America
Can't find what you are looking for? Contact us
LATAM
Can't find what you are looking for? Contact us
| Country | Status |
| --- | --- |
| Argentina | Commercial |
| Brazil | Early Access |
| Chile | Early Access |
| Colombia | Early Access |
| Ecuador | Early Access |
| Peru | Early Access |
| Paraguay | Early Access |
| Uruguay | Early Access |
| Bolivia | Contact us |
| Venezuela | Contact us |
Europe
Can't find what you are looking for? Contact us
| Country | Status |
| --- | --- |
| Albania | Commercial |
| Austria | Commercial |
| Belgium | Commercial |
| Bulgaria | Commercial |
| Czech Republic | Commercial |
| Croatia | Commercial |
| Denmark | Commercial |
| Estonia | Commercial |
| Finland | Commercial |
| France | Early Access |
| Greece | Commercial |
| Germany | Commercial |
| Hungary | Commercial |
| Iceland | Commercial |
| Ireland | Commercial |
| Latvia | Commercial |
| Liechtenstein | Commercial |
| Luxembourg | Commercial |
| Lithuania | Commercial |
| Netherlands | Commercial |
| Norway | Commercial |
| Poland | Commercial |
| Portugal | Commercial |
| Slovenia | Commercial |
| Spain | Early Access |
| Switzerland | Early Access |
| Turkey | Commercial |
| UK | Early Access |
Oceania
Can't find what you are looking for? Contact us
| Country | Status |
| --- | --- |
| Australia | Commercial |
| New Zealand | Commercial |
| Fiji | Early Access |
| Papua New Guinea | Early Access |
| Solomon Islands | Early Access |
| Vanuatu | Early Access |
Asia
Can't find what you are looking for? Contact us
Africa
Can't find what you are looking for? Contact us